The is for reference only,
Click here
to Visit the Shopping section to search for availability
Intelligence Agent's Equipment Locker
Marx Stock Number:
Produced: 1966-1968
Mike Hazard equipment was lockers were sold with a full set of Mike Hazard equipment. The sets were like the Stony Trunks with equipment. The Mike Hazard version is HTF and as a result I regret not having one for illustration. The Soft vinyl accessories are brown instead of tan. The locker resembles a gym locker and can hold all his disguises. No figure was sold with the locker. Pictures are shown for the idea. The Locker will be added at a later date. Note these are not the correct darker brown vinyl.
62 accessories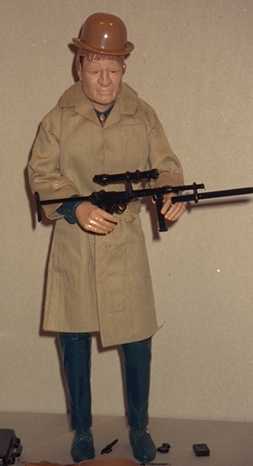 Locker-
Soft Vinyl Accessories:
• Dress Hat w/ Radio (1)
• Bowler Hat (1)
• Beret (1)
• False nose w/ Glasses (1)
• Beard & Glasses (1)
• Wig (1)
• Face Disguise (1)
• Shoulder Holster (1)
• Necktie (1)
• Bullet Proof Vest (1)
• Key Chain (1)
• Belt (1)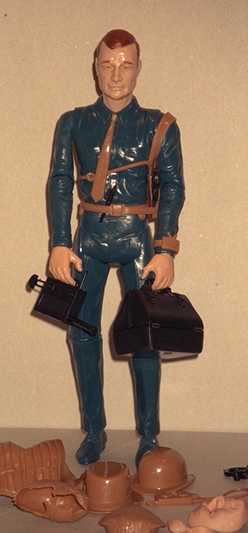 • Tape recorder (1)
• Wrist TV (1)
Poly-Plastic Accessories:
• Infrared Glasses (1)
• Berretta Pistol (1)
• Stiletto (1)
• Pen (1)
• Cigarettes / Lighter (2)
• Pipe Pistol (2)
• Hand Grenades (3)
• Derringer (1)
• 45 Automatic Pistol (1)
• Lugar / Silencer / Barrel (3)
• Handcuffs (1)
• Cane Rifle (1)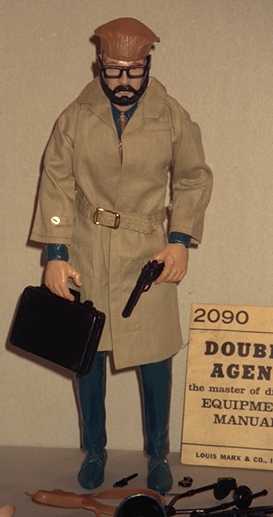 • Key (s) (3)
• Earphones (1)
• Movie Camera / Sonar Machine / Sound Cone (3)
• Scope for Lugar (1)
• Bayonet (1)
• Stock ext. (1)
• Lugar Action (1)
• Machine gun Barrel (1)
• Grenade (3)
• Grenade Launcher w/ o rings, trigger, spring (6)
• Radio w/ machine gun (4)
• Attaché Case w/ Booby Trap (1)
• Trench Knife for case (1)
• Exploding Bag (1)
• Cloth Trench coat W/ Belt (2)
Total - 62