The is for reference only,
Click here
to Visit the Shopping section to search for availability
Marx Stock Number: 4540
Produced: 1968
The Jeep was made again to compete with Hasbro in the military action figure market. I have never heard or seen the Marx version with any machine guns or weapons, only the searchlight on the trailer. Expect to pay fairly high dollars for the MIB Jeep sets with searchlights. They are not very common loose or especially boxed.
11-23 accessories (based on type)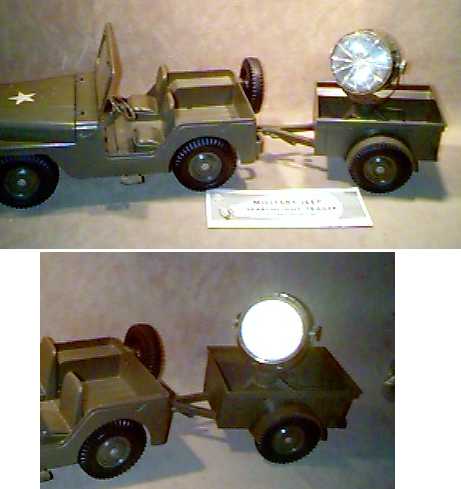 Hard Plastic Accessories:
• Jeep (1)
• Spare (1)
• Wheels (4)
• Metal Axles (2)
• Steering Wheel (1)
• Windshield / frame (2)
Total - 11
Stony Smith Jeep w/ Searchlight (deluxe version)
Marx Stock Number: 4544
Searchlight set adds the jeep above (11 accessories) to:
Hard Plastic Accessories:
• Trailer (1)
• Trailer wheels (2)
• Metal Axles (1)
• Spot Light / bulb/ cover/ spring/ cap (5)
• Tripod for light (1)
• Metal Light Pivot (1)
• Trailer post (1)
Total - 23