The is for reference only,
Click here
to Visit the Shopping section to search for availability
Marx Stock Number: 5371
Produced: 1968-1972
Bravo was molded in reddish / chestnut colored HP and designed of course to compliment the Sir Gordon figure. He had 17 pieces of poly-plastic armor molded in metallic gold color. The horse was basically the same as the one used for the covered wagons and therefore had wheels on hooves for mobility. The U.K. versions are basically the same except they are called Victor instead of Bravo. Most horse packaging I have seen is like 1 st issue style knights. Second issue versions are the Buckskin / Viking horses with nodding heads and wheels. These MOD versions were labeled as "Big Bravo". Big Bravo was molded in Brown colored HP. Our books show excellent differences in full color for variations of these figures, check out the book section for more details. Reissues were produced in 2001-?. The reissues are OK, but have fragile armor.
17 accessories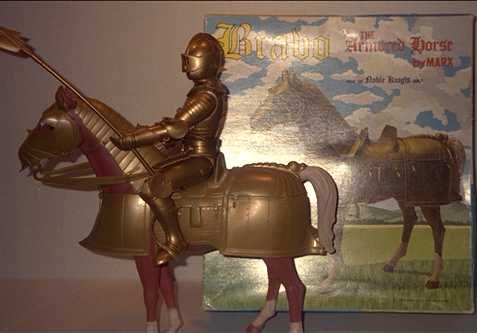 Horse-
Poly-Plastic Accessories:
• Saddle (1)
• Back Top - Crupper (1)
• Back rear sides Crupper Plates (2)
• Cinch strap (1)
• Saddle Plates (2)
• Stirrup(s) (2)
• Front Chest protection – Peytrel (1)
• Neck Protection - Crinet (1)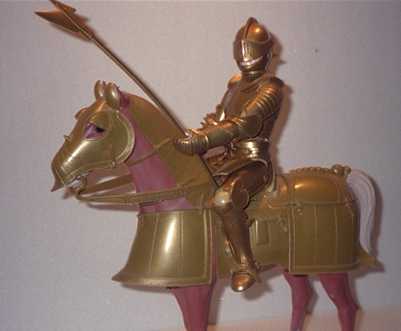 • Neck Strap "T" Crinet (1)
• Neck Strap Crinet (1)
• Reins (2)
• Head protection - Chamfron (1)
• Head strap- Chamfron strap (1)
Total - 17