Buddy Charlie / All American Fighters

The is for reference only,
Click here
to Visit the Shopping section to search for availability
Marx Stock Number: 1851
Produced: 1966 (Hong Kong)
Buddy Charlie was another attempt by Marx to compete with Hasbro. I grouped all versions together here due to clothing being the only difference. These figures had nude bodies with full articulation and were 12" in height. They had a different head mold than Stony, and had cloth clothing and dog tags to completely outfit them. Their head and hands were molded out of typical Marx soft vinyl. Stony accessory packs were sold to also compliment Buddy Charlies. Buddy Charlie boots are nearly impossible to find today. Most have cracked or disintegrated over the years due to the material used. Some "All American fighters" were also sold on cards verses boxes. Check out the book section for more details and pictures of Military figs..
Army Soldier (Shown to the right)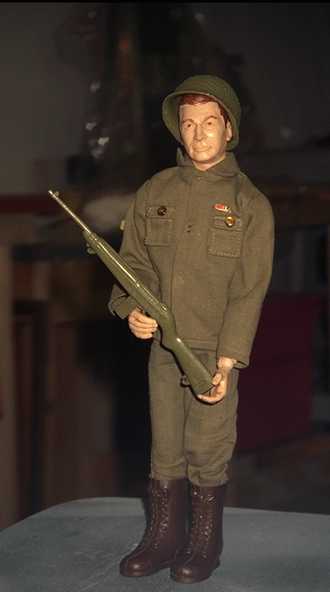 ~ 10 accessories
Poly-Plastic Accessories:
• Fatigue Hat (1)
• Plain Helmet w/ strap (2)
• Boots (2)
Clothing:
• Fatigues, pants (1)
• Fatigues, shirt (1)
• Insignias on card (1)
• Dog Tags, Metal w/ chain (2)
Total - 10
Marine Soldier
~ 10 accessories
Poly-Plastic Accessories:
• Fatigue Hat (1)
• Plain Helmet w/ strap (2)
• Boots (2)
Clothing:
• Fatigues, pants (1)
• Fatigues, shirt (1)
• Insignias on card (1)
• Dog Tags, Metal w/ chain (2)
Total - 10
Airman in Flight Suit
~ 7 accessories
Poly-Plastic Accessories:
• Blue Airman's Cap (1)
• Boots (2)
Clothing:
• Orange Jump suit (1)
• Insignias on card (1)
• Dog Tags, Metal w/ chain (2)
Total – 7
Sailor
~ 8 accessories
Poly-Plastic Accessories:
• Sailor Cap (1)
• Boots (2)
Clothing:
• Blue Naval pants (1)
• Blue Naval shirt (1)
• Insignias on card (1)
• Dog Tags, Metal w/ chain (2)
Total - 8