Renegade Sam Cobra #2072

The is for reference only,
Click here
to Visit the Shopping section to search for availability
Marx Stock Number: 2072
Produced: 1972-1975
Sam Cobra was another new face in the early 1970's. Sam had his own unique body molded in black poly-plastic. The Cobra body molds were originally intended for a James West figure never fully produced by Marx. I will show prototypes I made of the James west and Jesse James for fun in this guide. Sam Cobra had the same head as used in earlier years for the silver knight and some versions of the UK's black knight. Cobra can be identified as having a mustache and goatee with black slicked back hair. Many Cobras seem to have cracks on the shoulders and or stress cracks on the elbows. Sam's accessories were all made of poly-plastic and they too were originally intended for the James West figure. The Sam Cobra Holster in my opinion is one of the most hard to deal with Marx figure accessories. The buckle cracks easily, is hard to latch, and lastly conforms to the waist poorly! The first issue Sam Cobra had the red "Renegade" box and is usually in poor condition. Sam Cobra's MIB are on the Semi HTF side especially complete. He had some very tiny accessories including a two-piece derringer, key and stiletto knife that are missing from sets many times. In 1975 the last version of Sam was produced. The JWA series added the Quickdraw mechanism to the Cobras' like the JWA Johnny West had. Sam kept all his same poly-plastic black accessories with the exception of the holster. The holster was changed to a quickdraw type and was made out of soft vinyl with vinyl ties. His right hand also had the hole for the special pistol to lock into. Our books and modules show excellent differences in full color for variations of these figures, check out the book section for more details. The JWA Module alone has 44 pages of details on rare produced figures.
25 accessories
Figure-
Poly-Plastic Accessories: (All are..)
• Hat-flat top, curved sides (1)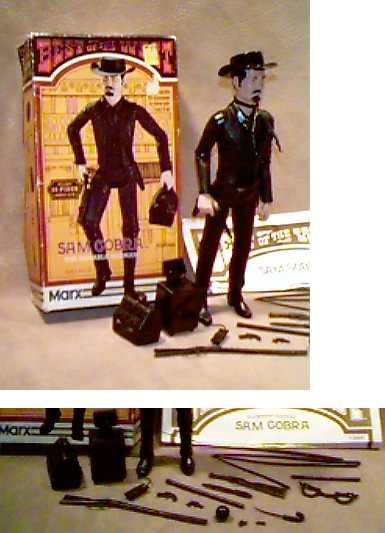 • Carpet Bag (1)
• ***Gun Belt-w/holster and scabbard (1)
• **Pistol-Colt Peacemaker (1)
• Knife-throwing type (1)
• Bandana (1)
• Safe (1)
• Handcuffs (1)
• Derringer (1)
• Derringer-smaller, for belt buckle (1)
• Derringer-take apart version, fits in ball (2)
• Ball-take apart to hide derringer (1)
• Sword Cane-hidden sword inside cane (2)
• Rifle-takedown version (2)
• Rifle-Winchester type (1)
• Dynamite bundle (1)
• Key (1)
• Pool Cue-take down version (1)
• Pool Cues-full length version (3)
• Knife-smaller Stiletto type (1)
*Total – 25
*JWA QD versions add – (2) Vinyl ties for special vinyl holster, changing total to 27.
**JWA QD pistols have a piece on stock to fit in a hole on the right hand.
***JWA replaces Standard holsters with a special QD type which ties to leg.