Geronimo #1863

The is for reference only,
Click here
to Visit the Shopping section to search for availability
Marx Stock Number: 1863
Produced: 1967-1975
Geronimo was an official addition to the FAF collection. Geronimo was 12" tall, had a white to off white poly-plastic body and had the same poly-plastic and vinyl accessories as Chief Cherokee with one exception. Geronimo was the only Indian that had a Yellow headband added. Geronimo can be identified as an Indian with straight long hair with no braids. He is very common and seldom ever seen broken or cracked. 1 st issues are still around and in super condition. In 1975, JWA changed the body color to orange, and the soft vinyl accessories to yellow. The poly-plastic accessories remained brown. MOD Canadian versions were molded in bright lime green poly-plastic. The accessories were made out of teal blue soft vinyl and silver poly-plastic. Canadian MOD versions are probably by far the toughest to locate and especially to complete. MOD Canadian boxes are also quite rare. Our books and modules show excellent differences in full color for variations of these figures, check out the book section for more details. The Canadian Module alone has 44 pages of details on Canada produced figures.
37 accessories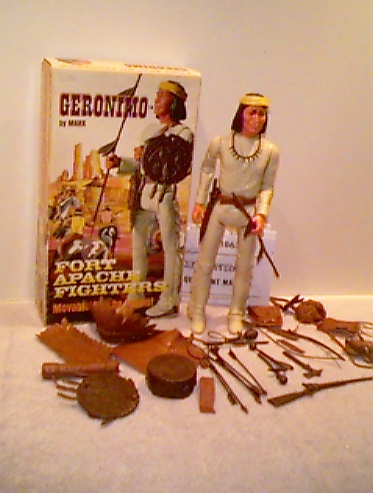 Figure-
Soft Vinyl Accessories:
• Breast Plate with straps (1)
• Shield Strap (1)
• Arrow Quiver (1)
• Belt-beaded type (1)
• Wampum strip (1)
• Feathered Head Band (1)
• Ceremonial mask (1)
• Parfleche-(shoulder bag) (1)
• Parfleche Strap (1)
• Hat-Buffalo Horned (1)
• Headdress-Feathered (1)
• Headdress Tail-Feathered (1)
• Headdress Side pieces (2)
• Pony Blanket-(w/strap) (2)
• Blanket Cinch (1)
• Hackamore-(Indian rope reins) (1)
• Yellow Headband (1)
Poly-Plastic Accessories:
• Shield-Brown (1)
• Knife-Bowie Type (1)
• Knife-sheathType (1)
• Bow (1)
• Arrows (6)
• Spear (1)
• Tomahawk (1)
• Bear Claw Necklace (1)
• Peace pipe (1)
• Rifle-1873 Springfield (1)
• Tom Tom (drum) (1)
• Tom-Tom stick (1)
• Rattle (1)
• War Club (1)
Total - 37