The is for reference only,
Click here
to Visit the Shopping section to search for availability
Marx Stock Number: 2097
Produced: 1966-67
"The Girl", April Dancer, was a 12" type figure molded in flesh to peach colored poly-plastic. She had a unique head with black painted hair, eyebrows, pupils and red painted lips. Her body is molded to look like she is wearing tights. April has unique accessories are molded in a mix of turquoise, coral, yellow, and tan soft vinyl, and her poly-plastic accessories are molded in black color. Like Mike Hazard she has many neat spy weapons and disguises. April is in my opinion the highest priced Marx figure in retail circulation. April was produced in limited quantities, around 10'000 units and was mainly sold in the UK. Her box has special MGM licensing makings on it. There is only one US/UK version to my knowledge other than the Mexican Issued version with the same molds. Future Modules will conatain more, note the Canadian Module has the store display pictured.
40 accessories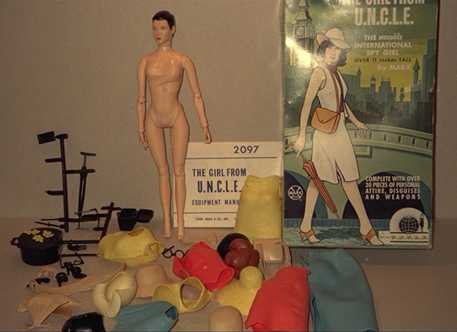 Figure-
Soft Vinyl Accessories:
• Picture hat (1)
• Pill box hat (1)
• Garbo hat (1)
• Bandana (1)
• Garter holster (1)
• Fur piece (1)
• Grenade bracelet (1)
• Knit sweater (1)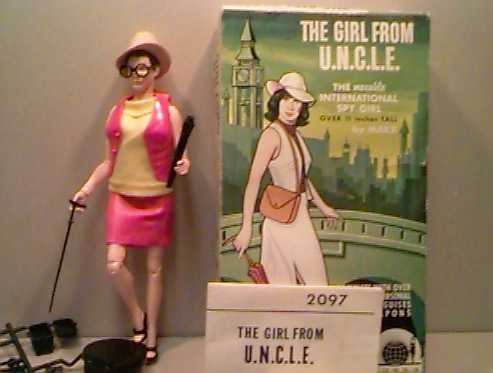 • Skirt (1)
• Formal jacket (cape) (1)
• Full length skirt (1)
• Leather jacket (vest) (1)
• Evening sweater w/3 matching (frogs) (4)
• Shorts (1)
• Shoulder bag w/ strap (2)
• Wide belt (1)
• Molded Vinyl Wigs (in blonde, black (2) and auburn) (4)
Poly-Plastic Accessories:
• Shoes (open toed spikes) (2)
• Opera glasses (1)
• Hat box (1)
• Round eye glasses (1)
• Wing eye glasses (1)
• Slotted angle glasses (1)
• Umbrella w/sword (2)
• Radio purse w/strap (2)
• Clutch purse radio w/antenna (2)
• Derringer (1)
• 38 pistol (1)
• Stiletto (1)
Total - 40