Marx Stock Number: 2085
Produced: 1974-1976?
Sheriff Thomas Goode was Canada's exclusive answer to a sheriff. He was essentially a 12" Sam Cobra body molded in white poly-plastic, with a Johnny West Head with blonde hair. His accessories were the same as Sam Cobra, and were molded in either silver or black poly-plastic. The silver accessories are very HTF. Sheriff Goodes also came with Gold Star stickers on a card. The white Sheriff Goode bodies are HTF Mint. Most loose ones look scuffed or dirty and a MIB one I recently got had a shoulder stress crack. If you find one with a shoulder stress crack, I would not get too concerned over it, most seem to have some kind of flaw. The blonde yellow colored hair is also worn off in many instances. Most look whiter in the hair color than blonde. Some issues of Jane West and Jay West share the same problem. MIB Goodes are quite costly. Expect to pay $350-600 for one. Canada had unique illustration boxes for Sheriff Goode unlike their Dangerous Dan and Jimmy West figures. To my knowledge there are only two box versions of Sheriff Goode, more may exist. Our books and modules show excellent differences in full color for variations of these figures, check out the book section for more details. The Canadian Module alone has 44 pages of details on Canada produced figures. See How many Jimmys in the Module!
26 accessories
Figure-
Poly-Plastic Accessories: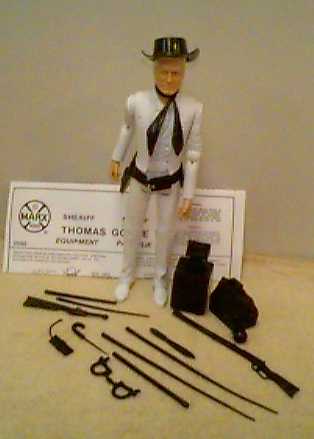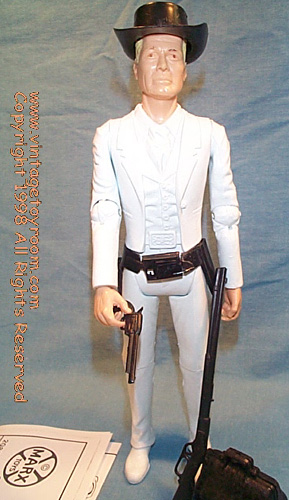 (All are..)
• Hat-flat top, curved sides (1)
• Carpet Bag (1)
• Gun Belt-w/holster and scabbard (1)
• Pistol-Colt Peacemaker (1)
• Knife-throwing type (1)
• Bandana (1)
• Safe (1)
• Handcuffs (1)
• Derringer (1)
• Derringer-smaller, for belt buckle (1)
• Derringer-take apart version, fits in ball (2)
• Ball-take apart to hide derringer (1)
• Sword Cane-hidden sword inside cane (2)
• Rifle-takedown version (2)
• Rifle-Winchester type (1)
• Dynamite bundle (1)
• Key (1)
• Pool Cue-take down version (1)
• Pool Cues-full length version (3)
• Knife-smaller Stiletto type (1)
• Set of Sheriff badge stickers 4- on card (1)
Total - 26