The is for reference only,
Click here
to Visit the Shopping section to search for availability
Marx Stock Number: 2090
Produced: 1966-1968
Mike Hazard was a 12" dark blue poly-plastic figure. He can be identified by his unique head with brown hair and a face showing a grin. His accessories were molded in black poly-plastic and mixed flesh or tan colored soft vinyl. Mike came with really cool spy accessories, some handbags even took caps to give realistic explosions when opened or thrown. Despite Mike having one of the largest sets of accessories out of most Marx figures, he is modestly priced. Boxed complete ones can be found under $300. The main problem is to verify if all 62 pieces are with set before you purchase it. Spend the time to verify any piece you are buying, it will be worth it in the long run. Most sets are not complete; the price may or may not change based on current demands. Our books and modules show more details. The Canadian Module alone has 44 pages of details on Canada produced figures.
62 accessories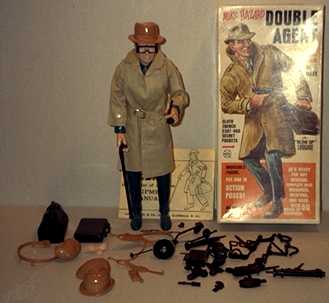 Figure-
Soft Vinyl Accessories:
• Dress Hat w/ Radio (1)
• Bowler Hat (1)
• Beret (1)
• False nose w/ Glasses (1)
• Beard & Glasses (1)
• Wig (1)
• Face Disguise (1)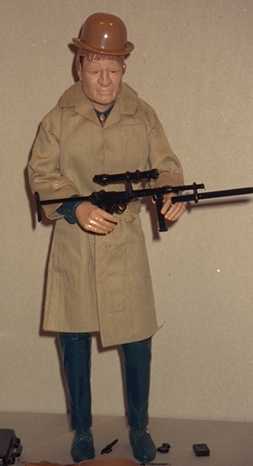 • Shoulder Holster (1)
• Necktie (1)
• Bullet Proof Vest (1)
• Key Chain (1)
• Belt (1)
• Tape recorder (1)
• Wrist TV (1)
Poly-Plastic Accessories:
• Infrared Glasses (1)
• Berretta Pistol (1)
• Stiletto (1)
• Pen (1)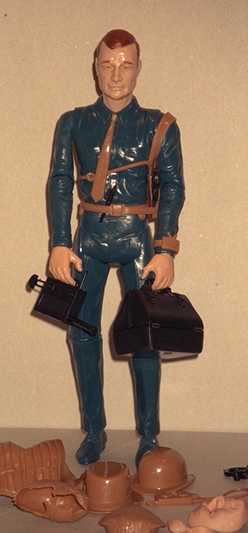 • Cigarettes / Lighter (2)
• Pipe Pistol (2)
• Hand Grenades (3)
• Derringer (1)
• 45 Automatic Pistol (1)
• Lugar / Silencer / Barrel (3)
• Handcuffs (1)
• Cane Rifle (1)
• Key (s) (3)
• Earphones (1)
• Movie Camera / Sonar Machine / Sound Cone (3)
• Scope for Lugar (1)
• Bayonet (1)
• Stock ext. (1)
• Lugar Action (1)
• Machine gun Barrel (1)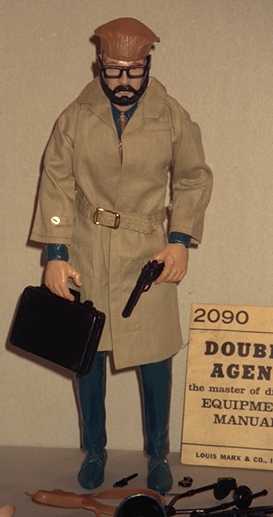 • Grenade (3)
• Grenade Launcher w/ o rings, trigger, spring (6)
• Radio w/ machine gun (4)
• Attaché Case w/ Booby Trap (1)
• Trench Knife for case (1)
• Exploding Bag (1)
• Cloth Trench coat W/ Belt (2)
Total - 62