Jane West #2067

The is for reference only,
Click here
to Visit the Shopping section to search for availability
Marx Stock Number: 2067
Produced: 1966-1975
Jane west was added to The Johnny West group too not only give Johnny a partner, but to add something to draw girls into the western era of Marx toys. Jane was roughly 12" tall, had a turquoise poly-plastic body with the same brown poly-plastic accessories as Johnny, and a unique set of soft mustard vinyl Jane type accessories. Jane's 1 st head style was tougher looking blonde cowgirl with a smirk. It was replaced after a short time, around 1967, to a subtler "Barbie" looking head, and her soft accessories were also lighted to a cream color. Janes are in abundant supply today; it's the accessories that are tough to find in some cases. Try finding the lipstick or comb in a bag of loose accessories. In 1970 Jane as all Marx figures, had the body rivets updated for strength. Around 1973 Jane was given a MOD/cactus box, and in 1974 she was switched to BOW. In 1975, JWA changed the body color to orange/salmon color with silver poly-plastic accessories, and blue and white soft vinyl colored accessories. The Canadian MOD version was molded in dark maroon with silver hard poly-plastic accessories, and pink soft vinyl accessories. The Canadian version is the most HTF today, and the JWA version is not far behind. Expect to pay at least double for a MOD Canadian version verses the standard turquoise versions. All MOD Canadian stuff in my opinion is at least double in price compared to the typical US colors. It is very hard to find in boxed form with the "made with MOD colors" labeling.Our books and modules show excellent differences in full color for variations of these figures, check out the book section for more details. The Canadian Module alone has 44 pages of details on Canada produced figures.
36 accessories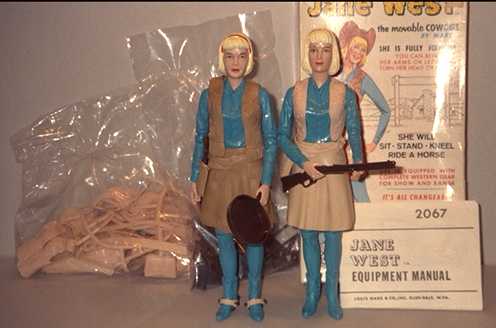 Figure-
Soft Vinyl Accessories:
• Gun belt (1)
• Bandana (1)
• Bullwhip (1)
• Purse (1)
• Purse Strap (1)
• Spur Straps (2)
• Compact (1)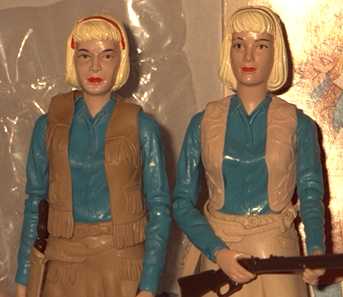 • Lipstick (1)
• Comb (1)
• Belt (1)
• Skirt-plain (1)
• Skirt-Buckskin fringed (1)
• Vest-plain (1)
• Hat-Cowboy type (1)
• Vest-Buckskin fringed (1)
• Hat-Flat top, flat brim (1)
• Hat-Flat top, curved sides (1)
• Hat straps (3)
• Bolo ties (2)
Poly-Plastic Accessories:
• Strongbox (2)
• Cup (1)
• Coffee Pot (1)
• Skillet (1)
• Rifle-Winchester type (1)
• Knife-Bowie Type (1)
• Derringer (1)
• Pistol-colt peacemaker (1)
• Spur-Back part only (2)
• Branding Iron (s) L / M (2)
Total - 36