The is for reference only,
Click here
to Visit the Shopping section to search for availability
Marx Stock Number: 2062
Produced: 1965-1975
Johnny West marked the beginning to a new era for Marx. This would start the western theme with a fully articulated Cowboy. Initially, in 1965, Johnny had a poly-plastic caramel tan body with straight style hands, and was 12" in height. In 1966-1967, the hands were quickly changed to a more gripping state or curved. Johnny had a mix of brown poly-plastic accessories and soft vinyl accessories. Some later BOW versions even have two brown stars depending on if Sheriff Garrett accessory molds were used. The Johnny accessory molds were used later for many other Marx figures. 1 st issue Johnny's are also found broken in many cases like the Daniel Boones. The caramel colored poly-plastic seems to shatter and crack on many. Luckily, Johnny was quite common, so finding them is still quite easy today. In 1967 Johnny was give a camfire style box. In 1970 Johnny had rivets added to shoulders and rivet style was changed in the hips. Around 1973, the MOD/cactus box was added, quickly changing to the BOW box style in 1974. In 1975 Johnny West Adventure changed the style of Johnny West and the box, as we would know him. Johnny was initially still given a caramel colored body but with blue and brown vinyl accessories and silver hard accessories. This initial version only lasted a short time and was quickly changed to the quickdraw style. Johnny's changed to a light blue mold color, with a HP body and quickdraw action was added to the right arm with a lever coming out his back to control it. A special holster with ties and pistol to grip a special hand with a hole were added as well. Johnny's accessories were mixed cream, red(bandana), and brown soft vinyl, and silver poly-plastic. Lastly another Johnny difference I want to mention is the MOD Canadian version.Canada produced a variety of Canadian "MOD coloured" figures which had the same molds as U.S. versions but were produced in different colors. In the case of Johnny, he was produced a few different shades of MOD green. Our books and modules show excellent differences in full color for variations of these figures, check out the book section for more details. The Canadian Module alone has 44 pages of details on Canada produced figures.
24 accessories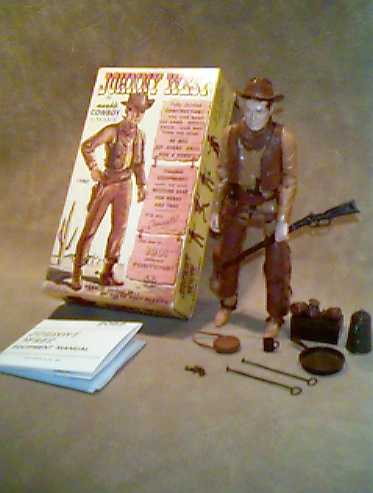 Figure-
Soft Vinyl Accessories:
• Sombrero (1)
• Chaps (1)
• Spur straps (2)
• ***Cartridge Belt with Holster (1)
• Sacks of Gold (3)
• Vest (1)
• Neckerchief (1)
• Canteen (1)
Poly-Plastic Accessories:
• Spurs (2)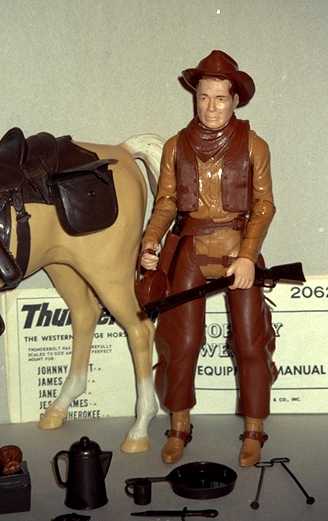 • **Pistol (1)
• Derringer (1)
• Knife (1)
• Rifle (1)
• Coffee Pot (1)
• Coffee Cup (1)
• Frying Pan 1)
• Strong Box (2)
• Branding Irons L/M (2)
*Total - 24
*Some Canadian Versions add - brown stars (2), changing total to 26.
*JWA QD versions add – (2) Vinyl ties for special vinyl holster, changing total to 26.
**JWA QD pistols have a piece on stock to fit in a hole on the right hand.
***JWA replaces holster with a special QD type made for a QD pistol and leg ties.