Capt. Tom Maddox #1865

The is for reference only,
Click here
to Visit the Shopping section to search for availability
Marx Stock Number: 1865
Produced: 1967-1975
Captain Maddox was one of the initial FAF Calvary figures as well. He was molded in steel blue poly-plastic, was 12" tall, had brown hair, and came with a mix of black / yellow poly-plastic and black soft vinyl accessories. Maddox was also given a pair of Captain epaulet stickers for his shoulders, which are usually gone when, found today. Maddox can be identified by his grin and strong prominent Jaw. Like I explain in my history section, he clearly has the Robert Conrad look. The Maddox head was originally intended to be used for a James West figure. Captain Maddox was also produced up to the JWA era. In 1975, the JWA version was given a royal blue body with accessories molded in silver and yellow poly-plastic and dark blue soft vinyl. I have never seen a boxed version of this JWA set. I have pics of a loose royal blue figure with most accessories in pages ahead. The loose figure is still a quite HTF piece with the odd colored accessories. In Canada, the Maddox head was also used for Jimmy West. I am not aware if any MOD "coloured" versions of Maddox were ever produced in Canada. Our books and modules show excellent differences in full color for variations of these figures, check out the book section for more details. The Canadian Module alone has 44 pages of details on Canada produced figures.
22 accessories
Figure-
Soft Vinyl Accessories:
• Canteen Cavalry. type, US on side (1)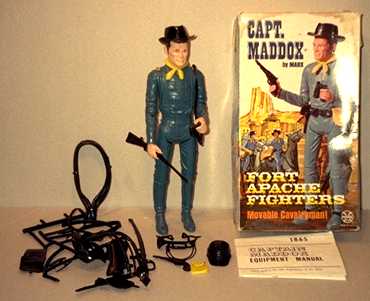 • Binocular case (1)
• Binocular case strap (1)
• Pistol belt (1)
• Kepi-Black (1)
• Scout Hat-upturned brim (1)
• Officers Hat (1)
• Rifle strap (1)
• Spur straps (2)
• Map Case (1)
• Map Case Strap (1)
Poly-Plastic Accessories:
• Saber-Union type (1)
• Blanket Roll (1)
• Pistol-New Army Rev. (1)
• Bugle (1)
• Spurs-back part (2)
• Binoculars (1)
• Rifle-1873 Springfield (1)
• Folded Gloves (1)
• Bandana (1)
• Captains Epaulets -2 on Card (1)
Total - 23