The is for reference only,
Click here
to Visit the Shopping section to search for availability
Marx Stock Number: 1545
Produced: 1967
Jeep / Jack Moffitt / Sam Troy
The Rat Patrol set contained another 7.5" scaled poly-plastic set of two figures and a HP Jeep. The figures were Jack Moffitt and Sam Troy. They both were molded in identical desert tan bodies with molded on goggles around their necks. Jack Moffitt had black hair and resembled Gary Raymond. Sam Troy had brown hair with a toothy grin, and resembled Christopher George. The figures each came with a full set of soft vinyl accessories. I have shown list below which includes double accessories, one set for each. I am not aware of the Jack or Sam being sold separately. If so they would have had just the 10 soft vinyl accessories. The Jeep has boots for holding M16's and a machine gun, which was rear mounted on a base. The machine gun has 6 special grenades that actually spring launch and shoot! I can see why they are missing from many sets. The grenades are roughly the size of a cooked grain of rice! The Jeep set is very HTF. I see listings now asking $800+ for the boxed set! Loose sets typically run around $350. Problems with the sets include elbow stress cracks and hair wear on the figures, and melt marks on the HP Jeep and HP accessories. If the soft vinyl was stored in contact with the HP, melts were typical. The same happed to HP horses from the vinyl tack being stored on them.
50 accessories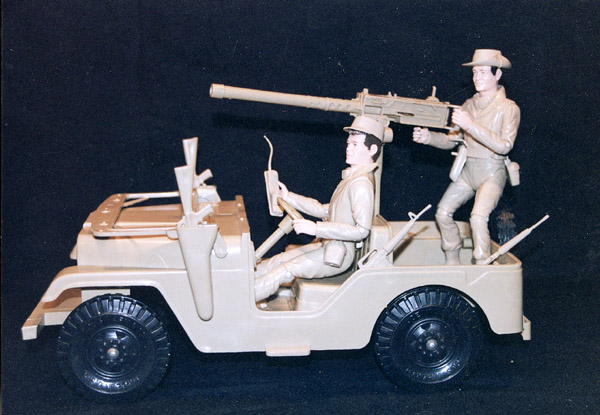 Figure(s) / Jeep-
Soft Vinyl Accessories:
• Net Helmets (2)
• Fatigue Hats (2)
• Berets (2)
• Aussie Hats (2)
• 45 Pistols (2)
• Holsters (2)
• Canteens (2)
• Walkie-talkies (2)
• Binocular Case with Strap (2)
• Assault Rifles, Vinyl (2)
Poly-Plastic Accessories: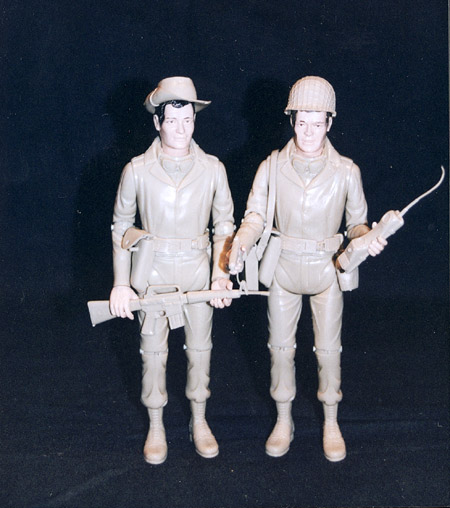 • Assault Rifles, hard Plastic (2)
• Assault Rifle Boots (2)
• Machine Gun (1)
• Shell Holder (1)
• Shells (6)
• Machine Gun swivel (1)
• Machine Gun stand (1)
• Spring (1)
• Pin (1)
• Jeep (1)
• Spare w/ screw (2)
• Steering wheel/shaft w/ cap (3)
• Floor boards (1)
• wheels (4)
• Axles steel (2)
• Windshield (1)
Total - 50