Zeb Zachary #1862

The is for reference only,
Click here
to Visit the Shopping section to search for availability
Marx Stock Number: 1862
Produced: 1967-1969
Zeb Zachary was one of the initial FAF Calvary figures. He was molded in steel blue poly-plastic, was 12" tall, had black hair, and came with a mix of black / yellow poly-plastic and black soft vinyl accessories. Zeb can be identified by thick hair folded above his forehead and a puckered mouth. I have been told the initial target for his head mold was a Jesse James figure never produced for full resale by Marx. Zeb's were only produced a few years in initial FAF versions. Marx never made Zeb Post 1970 to my knowledge. His shoulders should NOT have external style rivets, as these were used post 1970. In some cases I have seen Zeb's with latter issue Captain Maddox Bodies, which were obviously switched around. Maddox and Zachary bodies are the same mold and color. Canada also cashed in on the Zeb head. It was one version of Jimmy West. Zeb Zacharys are getting tough to find today, especially boxed. Our books and modules show excellent differences in full color for variations of these figures, check out the book section for more details. The Canadian Module alone has 44 pages of details on Canada produced figures.
22 accessories
Figure-
Soft Vinyl Accessories:
• Canteen-cavalry type, US on side (1)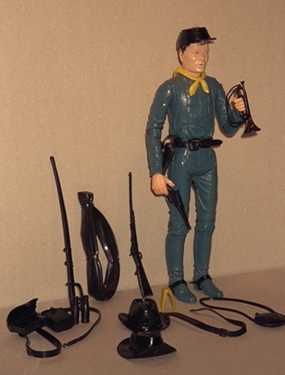 • Binocular case (1)
• Binocular case strap (1)
• Pistol belt (1)
• Kepi-Black (1)
• Scout Hat-upturned brim (1)
• Officers Hat (1)
• Rifle strap (1)
• Spur straps (2)
• Map Case (1)
• Map Case Strap (1)
Poly-Plastic Accessories:
• Saber-Union type (1)
• Blanket Roll (1)
• Pistol-New Army Rev. (1)
• Bugle (1)
• Spurs-back part (2)
• Binoculars (1)
• Rifle-1873 Springfield (1)
• Folded Gloves (1)
• Bandana (1)
Total - 22